---
June 2015:
Once again, May and June have been very busy at the Uganda Little League Complex. As most of you may know from the Facebook on Uganda Little League, we held three tournaments at the complex in the beginning of May. The first ones took place on May 9 thru May 13 for boys 11-12 and for boys 13-14. The 11-12 year old tournament hosted 8 teams and had several teams turned back by failing to win in preliminary games that for the first time were used to keep the number of tournament teams to eight. At the same time, we hosted the 13-14 year old tournament for four teams. The younger boys tournament was a double elimination tournament, but even though two teams were eliminated after two days of play, they still continued to play a game for the next two days as the purpose of the tournament was to have everyone play a game a day. The games were played at 10AM and at 2PM on field 1 and field 2.

At the same time, the older boys tournament was being played on field 3 with a game at 10 and one at 2PM. In this tournament everyone played everyone and then played single elimination. Thus, every day, we had three games being played at the same time. Three in the morning and three in the afternoon. Fortunately, we had enough umpires to cover all the games, with four on both championship games on the last day of the tournaments. Teams came from the far north, Gulu and Arura, the East from Jinja and Lugazi and the Kampala area and slightly west of the complex. In both tournaments, the championship game came down to Lugazi and AVRS School. In the first case, Lugazi had to work its way out of the loser bracket which they managed to do and to put up a competitive game in the championship game by carefully handling their pitching staff constrained by the Little League pitch rules. On two days, we had heavy rain. On the first day, the rain ended by 8AM and all the fields were playable by late morning. On the championship day, the rain stayed with us until 10:30AM, but the fields drained well and since Lugazi did not have that far to travel to get home, both games were played at 2PM. Some of the more distant schools had to leave in the morning because they had 8 to 12 hour bus rides facing them in order to get home.

On the day the boys were going home, the girls were arriving to play their tournament that started on May 14 and ended on May 18. We had to move it up because some schools were starting classes on May 17, but the boys tournament prevented us from moving it up any more than we did. Once again, we had eight teams involved in a double elimination tournament, but as in the earlier tournament, every team played games every day. The championship game was once again between Lugazi and AVRS with Lugazi coming out of the Loser Bracket again for the right to play in the championship game. This time, there were no rain delays during the five days of this tournament, and it was again won by AVRS School. In the three tournaments, AVRS won all their games and are now proceeding on to getting visas to play in the Europe/Africa tournaments in Kutno, Poland in July.

Our visa experience keeps getting bigger and bigger. This year, we were told that we should meet with the Polish Council in Kampala, which we finally did get a chance to set up a meeting with him. We went to what we were told was his office to find that he was the Uganda Minister for Water and the Environment and that the office had moved to another location outside of Kampala. We could not find him via his telephone and his office told us he was in a meeting somewhere in Kampala. With no where to go, all our coaches and school administrators sat at the Serena Hotel while we tried to locate him. As we were about to give up and head back to the Complex, we get notified that he would meet us at the Hotel in about 10 minutes. He was true to his word of arriving in 10 minutes, but that was already 90 minutes after the scheduled time. But this is Uganda. In any event, we showed him all our documents, including the invitation letter, visa application forms and notarized parent consent forms, and 303 Development Foundation Financial statements. He liked what he saw and said he would write a recommendation letter for the three teams to get visas. We asked if he could arrange a meeting for the teams in Nairobi, but he couldn't. He could not tell us if we would need additional medical insurance over and above what Little League in Poland would provide. He told us it was not up to him, but the visa officer in Nairobi. Not much was accomplished other than a letter of recommendation.

In any event, for everyone's information, the parent consent form and the visa application form which must be obtain electronically, must be signed by all parents or guardians. Since our students come from all over Uganda, that means sending them all home to get these signatures. For some, that is a 10 hour bus ride each way. But it has to be done by all 36 players. Then the consent forms have to notarized by a lawyer at considerable cost. Medical insurance has to obtained to show that each traveler is covered up to 30,000 euros in case of an accident. Also at considerable cost. Then letters have to be written by the school administrators and then proof that there is significant money available to permit these teams to have it in Poland, over and above the travel, feeding and boarding costs. That is where the financial statement of 303 Development Foundation Corp and a letter from its president had to be duplicated for the Polish Embassy. Once we get an appointment for the team, we have to get them on a bus for the 16 hour bus ride to Nairobi to have everyone finger printed. They do not keep these records supposedly, and everyone needs to fingerprinted at the embassy every time you apply for a visa. That forces each team to miss 4 days of school. Is the cost and time worth it? At the moment, the 11-12 year old boys have their visas, and the 13-14 year boys hope to have their on Tuesday of next week in time to make their scheduled plane departure of June 27.

In regard to the school, we now have brand new basketball courts with six baskets and three volley ball courts. As a result, we are now training our students in basketball and volley ball. Once again, our goal is to produce school teams that will win in National Competition. Our next project is the building of an arena with seating for about 1500 spectators for indoor basketball, volley ball, net ball and even badminton tournaments. The area is going to be built with the help of the President of the Uganda Basketball Federation. He wants it to be the best in Uganda so the complex can be used for International events and for the training site for National basketball teams. In addition, starting next May, the AVRS school will be participating in the NBA Junior league for both boys and girls basketball for Secondary Schools. It will be one of the best and is scheduled to begin construction early in October with a late January, early February 2016 completion date. The Uganda Commissioner of Sports wants the complex to host all the National Sports Tournaments in the very near future as he knows our goal is to produce the best sport facilities in the country where competitors can be housed and fed. This area will also serve as a theater and place to hold significant events, including parties and dances.

Europe/Africa Little League Regional Tournaments.
Boys 13-14 July 2 thru the 9th at Kutno
Poland World Series at Taylor, Mich. August 16 thru 23

Boys 11-12 July 16 thru the 23rd at Kutno Poland
World Series at Williamsport, Pa August 20 thru 30

Girls 11-12 July 27 thru 31 at Kutno Poland
World Series at Portland, Org. August 13 thru 19

---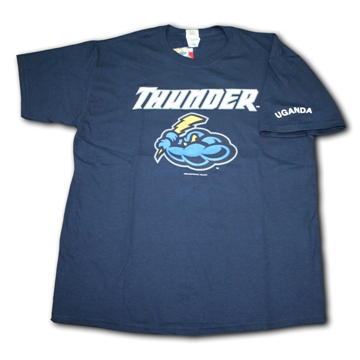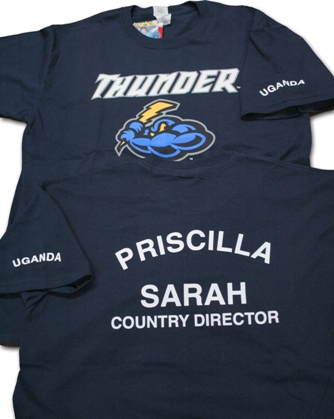 The Trenton Thunder supplied the hats and shirts that the team wore in Poland. The Trenton team was rooting for them to win so that they could come to the U.S. and visit the Trenton stadium and be introduced to the media and the crowd at a Trenton Thunder ball game. Uganda would have been the first African Little League team to make it to the Little League World Series in its almost 80 year history.

---