---
July, 2016:

This year marks the first time in the existence of the AVRS school that it has been told that while you are not banned from Little League Tournaments, they are going to make it impossible for us to participate with any team unless we change the goals and means of operating the school. We can send teams if the players only come from Kampala and from no where else. Our goal was to send a number of teams just as we did last year. The new hurdle is created because our students come from all parts of Uganda, not just from Kampala. Everything is supplied to the students at the school free of charge as we never wanted financial concerns to interfere with a student coming to the school as we always wanted the best student/athletes from all over the country. About 10% of our students come from Kampala, or currently about 15 students. We have boys and girls in approximate equal number that make up that number and the ages currently range from 11 through 15, which means we could theoretically send as many as 6 teams to Europe/Africa tournaments this year. How to you staff six teams from a total of 15 students? No one is allowed to play baseball or softball with 3 players on a team. Thus Little League makes sure AVRS doesn't go anymore because we will not change the objectives of the school.

We still held our tournaments in May. The AVRS girls won theirs, but the 11-12 year old boys did not, and to our surprise, the school that did win claimed they had a sponsor willing to put up the money to get them to the Regional Tournament in Kutno, Poland. When we informed Williamsport about this, they were shocked that anyone in Uganda could beat AVRS, much less they had the money to go. We also told them the players had their birth certificates and passports and were ready to get their visas from the Polish Embassy in Kenya. All they were waiting for was their visa invitation letter from Little League. One month later, the school was still waiting for the invitation letter when Little League International decided that they did not know enough about this league and thus would not allow them to come to the tournament and would not send an invitation letter. What is Little League International afraid of? There are lots of possible explanations as to why was AVRS basically banned after four years, and now no one from Uganda is going to be allowed to go. But of all those explanations, none of them speak favorably of Little League International.
On Saturday, June 25, the people who ran our three week film making class in January came to Uganda for the premier of the movie the students had made in January. The students wrote the script, directed the movie and acted in it. The instructors brought the raw footage to New York to be spliced and edited and brought it to Kampala for the premier. The movie is a little over 40 minutes and it was a big event in Uganda which is now competing with Nigeria to be the film making center for all of Africa. All the important people were there, including the entire class of 20 students who made the film. They are now working on a full length movie.

On July 17, we will be hosting Mike Randall at the Little League Complex for a day of baseball.. Mike is coming to look for possible future professional baseball players to invite to the program that has been held each December for the past 3 or 4 years in South Africa. It is sponsored by Major League Baseball. This will be their first visit to the complex as the local federation, who they normally work with, wouldn't even tell them where the school was since we refused to give them any money they always demanded from us. Mike knows about us and they are coming on their own. It will also give us a chance to talk to them about what we are doing with the Uganda Commissioner of Sports and getting baseball into government secondary schools and holding annual National Championships every January at three different age levels. This January will have the first National Championship Tournament for the students in S1-S2. Nest year, we hope to expand upward to a second tournament that will be for students in S3 and S4.

On May 5, construction started on the Allen VR Stanley Pavilion, It will be finished in time for the January 2017 school year to make use of it for the two basketball courts it will have, volley ball courts, badminton courts and a large stage for various performances. It will be the most modern indoor arena in Uganda, and possibly all of East Africa. It will have four locker rooms and a large private suite for VIP visitors, in addition to being set up for televising events. As this is written, construction is well ahead of schedule. It will also be the home for the Uganda National Basketball team and possibly other National events.

The second semester will end at the school during the first couple of days of August. In the meantime, the boys, playing in the adult league being supported by a fund out of Japan, has continued it's play of about one game per month since early March and the first half has now ended. The AVRS school composed of its students of which none is older than 15 is in first place by a large margin of the seven team league. They have played the other 6 teams, and are 5-1. The team they lost to by a score of 5-3 was beaten by two other teams that AVRS beat. Most of their wins were by mercy rule. The team always plays two games when they play, which means we played two different teams on the three days we played. We also restrict our pitchers to only three innings, and thus we may use as many as six pitchers on the days we play. We currently have, according to radar gun readings, two pitchers throwing at 86 miles per hour and five others in the lower 80s. What we are trying to do is to teach the others in Uganda that you must develop pitchers if you want to play in a tournament and win. The only way you can do this is by giving them all a chance to play.

---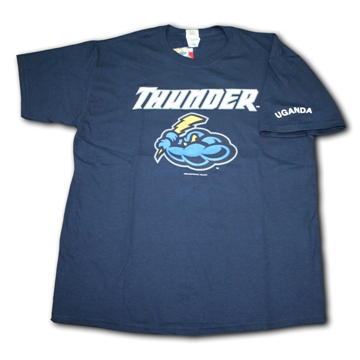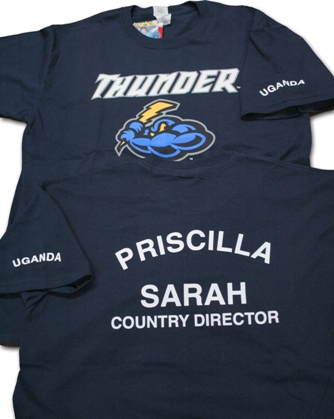 The Trenton Thunder supplied the hats and shirts that the team wore in Poland. The Trenton team was rooting for them to win so that they could come to the U.S. and visit the Trenton stadium and be introduced to the media and the crowd at a Trenton Thunder ball game. Uganda would have been the first African Little League team to make it to the Little League World Series in its almost 80 year history.

---