---
September, 2017
We have had a very interesting two months with a number of significant things happening. In July, 2017 we had the opportunity to meet with people at the Pennington School. A very highly rated primary and secondary boarding school. We met with the dean, who is also the coach of the currently rated top high school soccer team in the country. As a result of those discussions, we may be able to place a student, or two, or possibly more at the school at no cost to the student. The school is doing this now for a number of students from foreign countries and would like to include Uganda. Naturally, they are only interested in top students who are tops in academics and good athletes. They are interested in both boys and girls. Their goal is after a year or two, they can place these students at good colleges on full scholarships while bringing diversity to the school. We think this can become reality starting with the September, 2018 class. A similar program may start at a private school in near by Pennsylvania. This is not a boarding school, but housing would be taken care of at a near by home for a couple of boys and possibly a couple of girls. Once again, they want top students who are also good athletes. There goal is the same. Have winning teams that can feed the student/athletes into good colleges and universities on full scholarships. Once again, the plan is to start in September 2018. As a result of these two possible programs, a person will be coming in March to evaluate our education program and meet the potential student/athletes so that they can be placed into the proper education cycle when they come to the U.S. at these schools.

July 30, 2017:
14 baseball players and two coaches landed in Philadelphia to start a 10 hour bus ride to Cincinnati, Ohio where they would be a special invited team to play baseball for several days at the invitation of Major League RBI program. The team played two games on July 31, two on August 1 and two more on August 2. We played against teams of boys about to be seniors in high school or who had just graduated. No one knew how we would compare to the six teams we played against. We soon found out, as no game was close as the Uganda boys dominated in every way. In fielding, hitting, running and pitching. In the six games, I believe the total runs given up by the 12 pitchers we used was 3 runs while we scored at least 60 or more. The RBI people realized that they needed to get better teams to play against us. The boys had a great introduction to playing in the U.S. They stayed at a top hotel and had buffet breakfasts, lunch and dinners at every meal. Eat and drink as much as you want of what ever you want at each meal. A great experience of what professional ball players go through in regard to long bus rides and playing many games.

The next team we played against involved with the RBI program was on August 12 where we played against the senior RBI team for Philadelphia, which was supposed to be more competitive. Originally scheduled for nine innings regardless of the score, the game ended after seven with Uganda ahead at 16-2. At the request of a Baltimore Orioles scout who had come to see the boys play, we used a new pitcher each inning. A Philadelphia Phillies area scout put the players through a couple of timed drills prior to the game and was very impressed. None of our players were older than 16, What does Major League Baseball do with us now is very much up in the air. We hope that next year we will be able to participate in the actual RBI tournaments for boys 18 and under, 15 and under and for girls 18 and under. The only thing we know at this time is that Major League Baseball wants to bring the boys back again next year, and also the girls. What they do next year we will soon find out.

August 4, 2017:
The boys traveled to the Pennington school for a soccer showcase. Remember, this is the top rated soccer program in the U.S. at this moment. The coach put them through some drills and then split them up and added a player of his own to play a soccer game, which was being videoed which would eventually be sent to some college soccer coaches. Who knows, I am sure a soccer or baseball scholarship that gives the players a chance to play at a high level and an education at the same time is of equal value. The American football coach at the school was also present. Upon being told that the boys had not seen an American football game, he brought out a football and ran the boys through a couple of drills. After seeing them in the drills, he wished he good have a couple of the boys on his team now. He also gave a brand new football to a player he thought would help him win a championship this year if he played American football instead of soccer. After the show case, the players went to a minor league baseball game at the Trenton Thunder. Prior to the game Reggie Jackson, a roaming coach for the New York Yankees, and a baseball hall of fame player, came over and spoke to each of the players, one at a time. Many pictures were taken of this.

August 6, 2017:
The team began playing games in Toms River where they were housed by local families. Once again, they demonstrated their superior baseball talents in two games on Sunday, rained out on Monday, played a game on Tuesday, Wednesday, Thursday and Friday. At the same time, the families were taking them all over south Jersey, including the famous Jersey Shore and the Atlantic Ocean. They all had a wonderful time and the families that hosted many of them are inviting them to come back for Christmas and again next year.

Upon their return to Uganda, the Uganda Federation for Baseball and Softball was running tournaments in baseball and softball for secondary schools at a location east of Jinja. The program was supposed to run from August 26 thru August 31. The AVRS school swept all the games by lopsided scores. One was 26-0. The tournament ended on August 29 with AVRS taking home both the baseball and softball trophies.
Our concern before we went to these tournaments was that they would be a waste of time and money. Our fears came true. The good secondary schools from the north of the country that are part of the Uganda Commissioner's Secondary program, to the best of my knowledge, did not come as the costs to participate in travel expense and food were too high, It is unfortunate that the Federation seems unable to run any competitive programs that develop baseball and softball in Uganda. The future of baseball and softball is through the secondary school program in the Commissioner's program which we will continue to support and we hope all others will join in supporting. The Federation fails to encourage people to play many competitive games. They do a lot of talk and bring a lot of training programs to supposedly train coaches and players, but fail to get people to play the games. The expenses that allows trainers from outside the country to come and run training programs in Uganda turns out to be a waste of money since no one follows up to find out if anyone plays on a regular bases.

---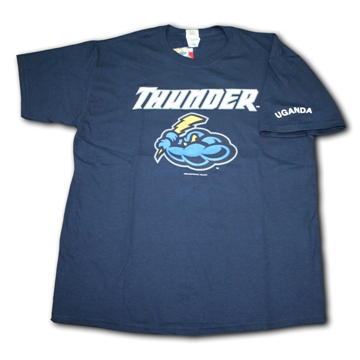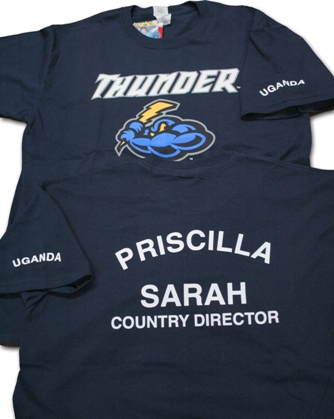 The Trenton Thunder supplied the hats and shirts that the team wore in Poland. The Trenton team was rooting for them to win so that they could come to the U.S. and visit the Trenton stadium and be introduced to the media and the crowd at a Trenton Thunder ball game. Uganda would have been the first African Little League team to make it to the Little League World Series in its almost 80 year history.

---