---
January, 2017

The past two months have been extremely eventful months with many significant things happening in a number of areas.

November marked the last month of the 2017 school year at the AVRS school We had received a request from Mr. Chris Kemp of the San Diego Padres asking to come and see one of our young players that he had seen in the 2015 Little League World Series. It was agreed that the best time would be the weekend of November 18 and 19. According to Chris, he was at a program in Florida where he was told about Uganda's visit to Cincinnati and it was suggested to him that he might want to see more than one player. Thus he and Trevor Schumm arrived at the Entebbe airport on the night of November 17 and watched the boys play four games on Saturday and two more on Sunday morning. They were impressed enough to express a desire to return in March of 2018.

Late Sunday morning, both Chris and Trevor took part in a meeting with the Uganda Commissioner of Sports, the Director of the Justice Department, one of our AVRS coaches, and myself to explain to them what we were doing about baseball in the secondary schools in Uganda. They were impressed with the plan and wanted to assist in making it come to fruition. It was agreed that they would go to their owner and to the International Scouts Organization to push for financial help in regard to equipment and other means. I would also approach the people I know in Major League Baseball with the same message to hopefully organize a ground swell of support.

On to the winter meetings in Orlando Florida in early December. The message of above were carried to several other teams. One major one was the LA Dodgers. Their President, Mr. Stan Kasten spent some time with us and offered to do something based upon what he heard from his people that he decided to send to Uganda. He is now sending Galen Carr, LA Player Development, and David Finley to Uganda in January to learn as much as they can and report back to him with their recommendations. They are now coming on January 15 for several days to scout the young players that will be playing in the Uganda National Baseball Championships for the young secondary school players. This is the program that is run jointly with the Uganda Sports Commissioner and Uganda Little League Baseball, and now is beginning to expand rapidly, but we have a problem with getting the needed equipment into Uganda to allow the schools that want to join the program to be properly equipped. This is one of the places where we need help.

Prior to our visitors from the LA Dodgers coming, Mr. Bill Bavasi Jr of the Major League Baseball International Scouting Division is bringing two MLB international scouts to Uganda. They are expected to arrive on January 13 and stay through January 19, the duration of the National Baseball Championship Tournament for the younger secondary school players. Once again, this is a unique opportunity to demonstrate the needs of this program and the potential the program has to produce talented baseball players in the near future.

Education program: We have work to do here, but we are making progress. I was invited to a program that Hillside College was running in New York City early in November. At this event, I had the opportunity to speak to their Director of External Relations for Athletics about our student/athletes at the AVRS school. He was very much interested and I was invited to come to the college to talk further. That happened on December 19. I brought a lot of data with me from running speeds of players to SAT scores of our older students. The conclusion, the school would love to have as many as four of our students each year on full scholarships, including room and board, but they need to attain a combined score of 1200 on the SAT exam in English and Math. I was informed that they have been bringing in a number of Kenyans via a program that is being run in Kenya for underprivileged females. They do this by working diligently on taking the SAT exams several times. Something we need to work on very hard. As most people may know, Hillsdale is one of the better academic schools in the U.S. They are also a good division II athletic school and want athletically talented students, where the students of AVRS would fit in. One other outcome of this visit was a meeting with the Hillsdale track coach. They are in the process of building a new outdoor track closer to their indoor track building. Both these tracks will be fit for International meets with electronic timing. I was shown the equipment we would need and how it is hooked up to underground cables for meets at the indoor track facility. The track coach will forward to me a copy of the plans for their new outdoor track with the requirements for the proper surface in the near future so we can then build our own track suitable for International Competition.

The last part of the education program involves possibly sending several students to several secondary schools here for one or two years to work on sports and SAT exams as fully sponsored students. We were required to provide the syllabuses for our classes and they were approved. We are working on trying to get a number of these students accepted into these schools, once again, because they are excellent athletes that should be awarded full student/athlete scholarships to good colleges after the one or two years at these secondary schools. Once again, these schools want to be competitive in various interscholastic sports, and our students can do that while the schools prepare them for four years of study in the math and sciences at good colleges here in the United State.

---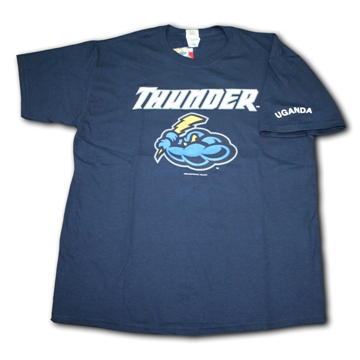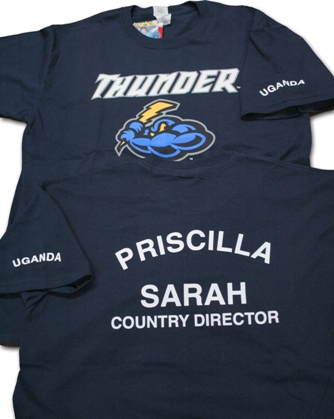 The Trenton Thunder supplied the hats and shirts that the team wore in Poland. The Trenton team was rooting for them to win so that they could come to the U.S. and visit the Trenton stadium and be introduced to the media and the crowd at a Trenton Thunder ball game. Uganda would have been the first African Little League team to make it to the Little League World Series in its almost 80 year history.

---