---
September, 2016

It has been a different summer this year from the past, but the future looks interesting. As everyone by now knows, Uganda was not allowed to participate in the Little League Regional Tournaments held in Europe. Will Uganda ever be allowed to participate again, we do not know. In any event, we are moving forward. With a series of visits by various people, we are already making plans to get Africa into its own Regional Little League program. In late July, a visitor from South Africa Baseball and softball came to Uganda to help Mike Randall evaluate young Ugandan baseball talent to bring to the one week MLB program held in South Africa each December. For the first time, they came to the AVRS School and were very much impressed by the ability they saw there compared to everything else they have been seeing in Uganda in the past years. There is nothing that can develop talent in baseball, or for that matter in any sport, like playing many competitive games. In any event, we were informed that South Africa dropped out of Little League a couple of year ago, but really liked the idea of Africa running its own Little League Region and hosting All Africa tournaments. When informed that we intend to run a double elimination tournament in May 2017 for any Africa country that wants to compete, we were informed that South Africa would be one of those teams. We would expect Kenya, Tanzania, Rwanda, in addition to South Africa to attend, and possibly Nigeria, Cameroon, Ghana, and possibly some others. We would host the tournament at no cost to anyone other than getting themselves to Entebbe Airport. The last three would encounter significant airfare costs, but those would be their only costs contrary to the European tournaments that require Uganda to pay for hotels, meals and even bus transport to and from the fields. When the tournaments are over, will Africa ever be invited to the Little League World Series. I do not think so initially, but how can they keep a continent of over one billion people out of the Little League World Series. We are very tired of them studying what to do with Africa for over 12 years and doing nothing. How long do you need to study something before you do something?

During late July, Mr. Bill Bavasi and Mr. Garth Iorg of Major League Baseball came to the complex, along with Mike Randall. We subsequently sat down with Mr. Bavasi along with the Ugandan Commissioner of Sports and spoke about what is going on with Baseball in Uganda. Mr. Bavasi wants to do something, and thus received a lot of information and many directions as to how MLB might want to get involved with developing the talent in the country. Uganda is definitely going to do what it has planned and that is to introduce baseball into many government secondary schools. Already, we have five schools, each with four teams playing in their own leagues at the S1 and S2 grade level. The Uganda National Baseball Tournament for these schools will be held at the Uganda Little League Complex in January of 2017 with each school selecting and sending their respective all star teams to the tournament paid for by the Ugandan Government. Next year, each school will be expected to have four teams added at the S3 to S4 level, and eventually to the S5 to S6 level. Thus each school will have 12 teams playing at three different levels with National Championships held every January for the respective all star teams. Other private schools are free to join in the tournaments. The government goal is to get at least 40 schools participating with qualification tournaments around the country, plus any private school would be free to participate, the only thing is they would have to pay their own travel expenses. Will we produce players? You bet we will.

Arrangements have been made to bring our older AVRS players to New Jersey to play for 7 to 10 days in the Black Sox Foundation program. The exact dates are to be worked out, but they will be here in the later part of August. The things that will affect the dates is what else will these players be doing at that time. We were told earlier this year that Uganda would be part of the RBI program tournament in Cincinnati in August 2017. We hope RBI will also allow the girls to play. We are working to verify that this will happen, but are not positive at the moment. We hope to send a junior team to a junior softball tournament in Florida in July 2017. We are also working with the Federation on getting them to join the Uganda Olympic Committee and thus begin to work our way into competing our way into the 2020 Olympics in Baseball and Softball. The Uganda Olympic Committee wants to see baseball and softball as part of its program, but the Federation needs to officially join the Committee and follow its rules. We hope they are smart enough to do that. That would also open the door for Uganda to participate in the 2021 World Baseball Classic. These are just some of things going on.

The AVRS School continues to build. We hosted the Mpige district track meet for the first time. The school came in first and there for represented the district at the National Championships. We sent 14 participants in boys and girls. One of our S3 students ran 100 meters in 11.03 seconds with very little training in track. We definitely have talent at the school, what we do not have is experienced coaches, but we are working on that.

We are proceeding with the building of the arena. It will be completed by March 1, 2017, when we will have a ribbon cutting ceremony. It is one of the best in all of Uganda, if not the best currently. We will be using it starting in December of this year for the students. In any event, we did enter a team in the junior girls basketball program. They went 8-1 and are now scheduled to be in the finals early in October. They just started playing basket ball in May. We have a pretty good coach here and we expect to have the boys playing in the program next year. Our new arena may be the center of many big tournaments in the future, not only for basketball, but volley ball, badminton, and possibly even net ball. We continue to make progress.

During October, we expect to register all our current S4 students to take the SAT exams in early December. This will be the first true test of what our school is doing academically and is extremely important for our students ability to obtain even partial athletic scholarships. The results will be very significant. If the results are good, we will continue. If they are not good, then we will have to reexamine what we are doing. We will know in January 2017.

---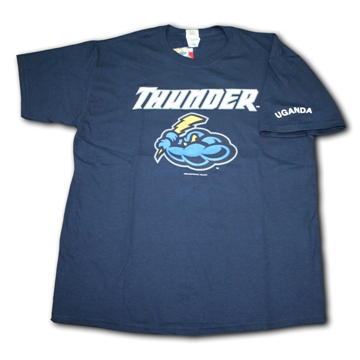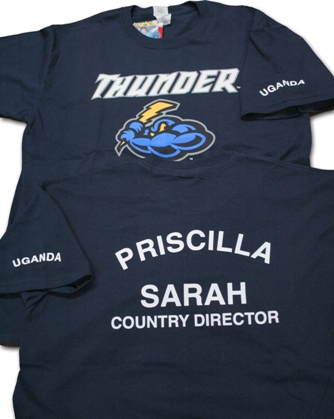 The Trenton Thunder supplied the hats and shirts that the team wore in Poland. The Trenton team was rooting for them to win so that they could come to the U.S. and visit the Trenton stadium and be introduced to the media and the crowd at a Trenton Thunder ball game. Uganda would have been the first African Little League team to make it to the Little League World Series in its almost 80 year history.

---