---
May, 2016:

Will any African team make it to a Little League Regional Tournaments, much less the World Series?
On Monday, April 25, Uganda Little League was informed by Little League International that the Allen V.R. Stanley Secondary School would no longer be allowed to participate in any Little League Regional Tournaments because Little League International has determined it to be a "Sports School" and according to a rule that took them four years to find, "Sport Schools" are not allowed to participate. Since this has been the only program in Uganda willing to overcome the $35,000 barrier and visa problems that Little League puts in front of African Schools to participate in their regional tournaments, I doubt you will see an African team in any of their tournaments again unless they suddenly agree to break Africa away from Europe and hold tournaments in Africa.

A little bit of history is in order here about Little League International and their knowledge of how the AVRS school operates. Back in January 2013 is when the AVRS school started. Our goal was to find the best academic/athletic students and develop them so they might be able to obtain scholarships to US universities to study to be scientists and engineers. We would hope to do this via half athletic scholarships and half academic. In order to obtain those scholarships, we would need to produce the best academics and athletes possible in any sport. We would bring these students to the school, house and feed them and train them at no cost to them or their parents. We wanted the best student/athletes in a number of sports where scholarships are given out. All this was published and can be found in our history section going all the way back to the fall of 2012. Little League International knew this, because in 2013, they banned the school from participating because we had several students from Lugazi that had played in the World Series in 2012 and they came to the school without Little League International's permission. They then changed a rule that allowed students at a school to be a league. That allowed us to participate in 2014. Unfortunately, that year the EU refused to grant the three teams we were hoping to send to Europe visas because they claimed that we did not prove we had enough money to travel the 50 miles from the Warsaw Airport to the tournament site even after having already shown the embassy the $60,000 worth of airline tickets we had to pay in advance for to bring to the embassy.

We overcame that barrier in 2015 by showing the embassy that there were funds available to the school worth over $4,000,000 that would cover any costs the embassy could possibly dream up that would prevent the players from returning to Uganda. Thus, we were expecting to do the same thing this year for three teams for this years tournaments. That was until April 25 when Little League suddenly found this rule that they have chosen to suddenly enforce. They knew we are going to be going to these tournaments back in February. What took them so long to find this rule and why did they decide to enforce it now and not in 2013? I am sure we will never know the real reason.

Enough of the bad news. Starting May 7, the AVRS school will be the site of the boys 11-12 Uganda National Little League tournament for 8 teams. It will be a double elimination tournament, but even so, every team will be playing games every day from Monday to Thursday, even though they may already be eliminated from the title game early in the week. The title game will be held at 10AM on Friday, May 11. At the same time, we will host an under 16 tournament for boys, also starting on May 7 with every team playing each other and then the second and third place team playing each other for the right to play the first place team for the championship.

Starting on May 14, we will have 8 girl softball teams, age 11-12, playing for their championship with the title game played on Friday, May 18. Also at the same time we will host an under 16 tournament for the girls, just like the boys tournament the week before.

With Africa no longer participating in Little League Regional Tournaments leading to the respective 8 Little League World Series, we may host our own All Africa Little League tournaments. As we have always promised, if we do this, we will house and feed the teams at the Uganda Little League complex at no cost to the teams. Back in 2007, we were told by Little League International that one of the reasons the Middle East Africa regional tournament had to be held in Poland was because we had no place to house and feed the visiting teams in Uganda. Well we have had that ability since 2009, but still we are denied tournaments while Chez Republic, Italy and the Netherlands are hosting regional tournaments this year where, if we went, we would have to pay for our own hotel rooms, food and even be forced to hire a bus to get from the hotels to the fields to play a game. How come they can host tournaments and Africa cannot? Another good question that will never be answered.

At this moment, and it is still very early, if we host the All Africa tournaments, we would expect Kenya, Rwanda, Tanzania to join us as we know they have government supported programs. South Africa, Cameroon, Nigeria, and Ghana may also join us in Uganda, since they supposedly have viable programs, but we are not sure of them other than South Africa. The only thing they would have to do would be to travel to Uganda. We would cover their transport from the airport to the complex, house and feed them for the week and expect them to be prepared to play games every day they are at the complex. The visa problems any African team has in trying to get to the EU disappears as a number of African countries do not need Ugandan visas, and the few that do, would get the visas when they arrive at the airport.

One last thing about this which in my eyes is very funny. Finally, after 10 years of invitations, one of the Little League International officers was planning on finally coming to watch the Uganda tournaments and visit the complex and possibly learn about the school, at least that was what was being planned for until April 25. Suddenly, even though we were still hopping he would come, he was stopped from coming. How pathetic.

Potentially really good news regarding our Cancer Clinic. By the end of this year, an instrument that may replace mammograms and unnecessary biopsies may have final FDA approval and possibly be ready for sale early in 2017. If that happens, we will be ready to begin operating our clinic with this instrument sometime after July 2017. This clinic would be a prototype for all of Africa. The results might eliminate any cutting of women's breasts in the future due to cancer. We have applied for a significant grant via USAID to get the clinic operating. We would need to purchase the instrument, train the operators and the technicians who would maintain it before it can start up. Our eventual goals is be the training center for all of Africa and possibly, if done right, maybe eliminate disfiguring surgery of African Women's breasts due to cancer in the near future.

---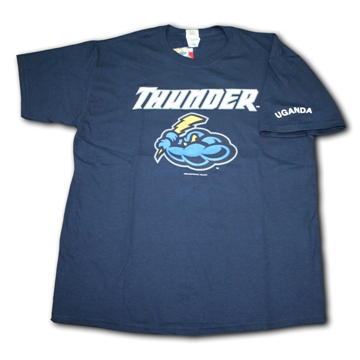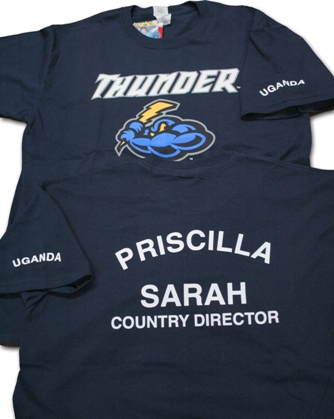 The Trenton Thunder supplied the hats and shirts that the team wore in Poland. The Trenton team was rooting for them to win so that they could come to the U.S. and visit the Trenton stadium and be introduced to the media and the crowd at a Trenton Thunder ball game. Uganda would have been the first African Little League team to make it to the Little League World Series in its almost 80 year history.

---