---
March 2018

Things in Uganda just keep on happening. Some good things and some not so good things. On Wednesday evening, March 21,, we were notified that Uganda RBI, the AVRS School was officially accepted into the 2018 RBI program. This means it is now official and we can say it. Uganda RBI is now going to participate in the Caribbean Regional RBI Tournament in Vero Beach Florida for three different teams. The boys 18 and under, the boys 15 and under and the girls 18 and under softball team. We have submitted our signed statement that we will adhere to all the rigorous requirements of the application. The first games will be on June 28, 2018 with a champion determined in each program on July 1, 2018. Should any of our teams win the tournament, they would participate in their respective RBI World Series in Minneapolis, Minnesota from August 5 - 10 for baseball, and August 11 - 16 for girls softball.

We will now begin to plan for the days after the Florida tournament. We hope to spend an additional several days in Florida to play a number of other games over the following several days before returning to Uganda around July 10 or so.

Football (soccer) The annual program leading up to a Ugandan national secondary school champion in soccer began with an area tournament for the AVRS school on March 9 & 10. The people running this tournament demonstrated how corrupt secondary school programs can be in Uganda and how little sense of responsibility for the welfare of the students some adults have in Uganda. We were told to be at a particular school at 9AM to check into the tournament. At the time, no one had any knowledge about what games we would play or who we would be playing, but we had to have the entry fee in two days before. By 10AM, we knew we would have to play against all the teams in our pool of six teams. The top two ranked in our pool would play the top two teams in the other pool on Saturday. We would play 5 games in two halves of 15 minutes each on Friday on one field and the other pool would do the same on another field. The first game did not start until 11:20. We did not play in the first game, nor the second. The second game did not start until 12:30. We played the third game because our opponent didn't arrive at the field until 1:45 with no penalty. At 3PM, the next game started, and then we played again at 4:00. Sat until 6:00 when we played again.
Why so long between games, no one knows, but everyone just sat for literally 30 minutes doing nothing between games. We were at the school from 9AM almost to 7PM. No food, no benches, no water other than what we brought and no idea in the morning as to how long this would take. We were then told, we needed to come back at 9AM on Saturday. Over the time from 9 until 4:30PM, we played two more teams in our pool and did not finish until after 4:30PM. again, we played two 15 minute halves in each game. We did not lose, and the last team we played only lost to us, so we finished first in our pool, and they finished second in our pool. Now the shock that we now had to come back at 8AM on Sunday. A day that was not planned on and now we had to scramble to arrange for the bus to bring us back. A one and one half day tournament was now being turned into a three day tournament at the last moment.

Okay, we would come back and play the semi final and championship games on Sunday. When we arrived early Sunday morning, we were told that now we are going to play a quarter final round and a semi and then the championship game. We ask why a sudden quarterfinal. Not getting an answer, we saw why. The home school would not be in the semi finals, but would be in the quarterfinals at position 4 in the 6 team pool. Now the games were at least two 30 plus minute halves. What was unique about this quarterfinal was that the home team at number 4 in its bracket got to play number 4 in the other bracket, while 2 in one pool played 3 in the other pool, and we being number 1 played number 1 in the other pool. Not only that, but we played the second game of the two games on each field, so our game ended at about noon, and then we were required to play the semifinal at about 12:30. No time to eat, but only to get a drink of water. Now the biggest surprise. The four teams from our pool beat all of the four teams from the other pool. Thus we expected as number one, we would play number 4 in our semi. We were all prepared to do that when we were suddenly told that we were going to play number 2 and 4 would play 3. Needless to say, we did protest, but were told "Too bad". We lost that game 2-1 and then were told, at 3PM that they wanted us to play a consolation game. Why? For three days, we were at that field for over 9 hours, 8 hours and now already 7 hours. We had played over 120 minutes on this day and our kids had not eaten a decent meal in three days. No one plays a game, rests for 2 hours, plays again and rests for another 2 hours or so only to play again. Do much the same the next day and then play 120 minutes plus on a third day only to appease the home team, only to play another 90 minutes and claim they care of the kids welfare. These people running this tournament should be put in jail for child abuse.

The school is back running as of early February and will run to the end of April. We have a significant challenge this year as the first year students have a number that have a hard time understanding and reading English. This is going to be an interesting problem, but we intend to work very hard, and with every ones help, we expect to bring them around and make them good students. It will require a lot of hard work on everyone's part to make it work.

This year, the S1,S2,and S3 students are together in athletics. They give us four teams of boys and four of girls consisting of about 14 players each. The S4,S5 and S6 students are together, but here we have only four teams of about 9 or 10 players each. As a result, we have four teams of the older and four of the younger in each of two leagues of boys and two of girls. We will play our usual 3 or 4 baseball and softball games per week and 2 or 3 soccer games per week during the school terms.

On the first weekend in March, the boys played the first double header in the adult league. We are one of the four so called best teams which we will only play this year, while five other teams play in a so called weaker division. The games ended due to mercy rules of 10-0 and 12-2. We gave up 2 hits in the first game and 1 hit in the second. A couple of bad errors allowed the only hit to score and a hit batter to score. Dennis, the catcher in the first game and the right fielder in the second had a great day. Picked off a runner at second base in the first while getting a double and triple against the fence, and a single, along with a home run over the center field fence, the only ball that people have ever seen clear the fence at this field, and another double and single. Every time he swung, the ball was hit solidly and on a line to all fields.

The arena is finally back on schedule that will see it being finished with the ribbon cutting taking place on June 10, 2018. It will be one year late, but will now allow us to put into place a good basketball program along with volley ball and even netball. It will be a major addition as we can use it from 7AM to 10PM regardless of weather. With its full stage, it will also be used for many other programs which will also allow us to introduce a possible 40 or 50 piece marching band, and certainly a stage group of dancers and singers. The singers are already there and the band instruments have been at the school for over a year now, just waiting for the arena to be finished.

---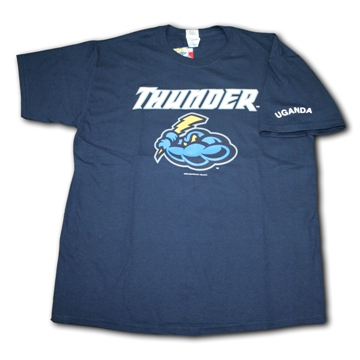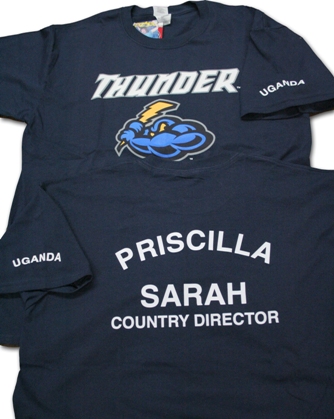 The Trenton Thunder supplied the hats and shirts that the team wore in Poland. The Trenton team was rooting for them to win so that they could come to the U.S. and visit the Trenton stadium and be introduced to the media and the crowd at a Trenton Thunder ball game. Uganda would have been the first African Little League team to make it to the Little League World Series in its almost 80 year history.

---