---
July 2018

It has been a long time between updates on this page and so many things have happened. The school is nearing the end of its second semester as this is being written. We have had a number of discussions with our head master about some changes we need to make in how the school runs academically. Several meetings were held with the teachers in mid May about opportunities that are available to us that would require changes in how and what we teach. Everyone is committed to making some changes. The main changes are how we teach English and the need to work on "Reading Comprehension", and how we also teach math. The reasons for these changes is to work on improving our students SAT scores. In addition to the math and English changes, we are now also instituting classroom work on taking SAT exams. This will assist us in obtaining U.S. scholarships.

The arena is now mostly complete. The floor, which had held things up for many months is now installed. The only item left to do is to install the bleachers. That will be done over the next couple of weeks. The last question here is "When will the Ribbon Cutting" ceremony take place.

I am told that the head of the Uganda Football Federation finally came to visit the complex. He was very much surprised by what he saw and duly impressed. He has now vowed to work with us on binging International Soccer programs to the school to develop players and other things. We still have a long way to go with our facilities, but we are getting there.

In June, we have reached formal agreement with a very close neighboring school for Dentistry and Medical Practices being run by an American Dentist who is a native of Uganda. This school only opened about three years ago. They want to use our ball fields to have their student/faculty soccer team practice on three evenings per week. In addition, it will give their team and our teams an opportunity to occasionally play friendly, competitive games against each other. In turn, they will give every student health examinations, dental exams and treatment free of charge every semester. In addition, it gives our students an opportunity to learn about and possibly enroll in this school as a career choice.

Little League:

In early May, we ran our usual Little League Baseball and Softball tournaments with eight teams participating in each double elimination tournament. You could not miss the huge increase in the ability level of all the teams, especially in the girls program. Each team had windmill pitching with some speed. I certainly believe that the seventh place team this year would have been playing for the Championship only one or two years ago. The AVRS teams did win both tournaments, but many of the games were very competitive.

In regard to Little League, a meeting of all the program coaches and directors were held during the tournament time, and it was agreed that Uganda Little League would only concentrate on the age 12 and under in baseball and softball. Each Little League would work with the secondary schools in their area to feed the Little League graduates into the Secondary School program being coordinated by Uganda Little League and the Commissioner of Sports. At the urging of Little League International, we have chartered all the Uganda Little Leagues that want to follow Little League Charter rules and organize to participate in Little League Tournaments. With this in mind, the AVRS school will no longer charter as a little league as we are not going to be allowed to play in any tournaments as a chartered member. Thus the school will be a place that runs the Uganda Tournaments, but does not participate as a chartered Little League in the tournaments.

RBI Program:

In late June, AVRS school sent three teams to Vero Beach Florida. A boys team of 18 and under, a boys team of 15 and under and a girls softball team of 18 and under. While the older boys team oldest player was 17 and the girls oldest player was 16, all played well and demonstrated that our programs are competitive on an International Level. The 15 and under boys team won their tournament and will now be playing for the Championship against 7 other teams from the U.S. starting in the first full week in August. That tournament will take place in Minneapolis. We were the first program from a foreign country to participate in this program. Several scouts were able to see our players and a number were very impressed by the talent exhibited.

In mid July, I was invited to Los Angeles to meet with Stan Kasten, his GM, and several other people involved with scouting for the Los Angeles Dodgers. Based upon earlier discussions and a visit to Uganda by Galen Carr and David Finley, the Dodgers want to do something to advance Baseball Development in Uganda. The discussions lasted a couple of hours. The Dodgers recognize the talent potential in Uganda and also the facilities and goals of the AVRS school. In summary, it was agreed that we would work together to advance the goals of the school and what we are doing with the Commissioner of Sports in getting Baseball into a number of secondary schools, so that it becomes a major sport for Uganda. If we are to follow the guide lines that the Commissioner and AVRS have been working towards for the past several years, more than just the AVRS school may become participants in the RBI program, basically, because each school in the program is required to basically meet the same standards that RBI requires of four teams at each age level playing a number of games at each school.

The Dodgers recognize that Uganda needs baseball equipment as none is sold in Uganda. They have agreed to assist in helping us in obtaining that equipment so that more people can actually play the game at many more schools. They have also told me that they will be coming to Minnesota in August to watch our players. They were in Vero Beach and were very impressed by what they saw. Discussions with the Dodgers will be on going over the next several months, and with possibly more visits to Uganda in the future.

---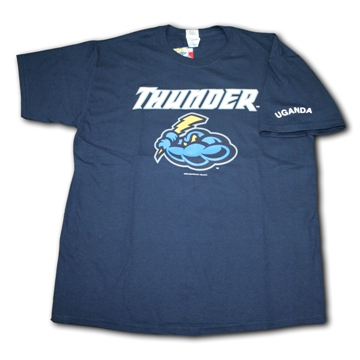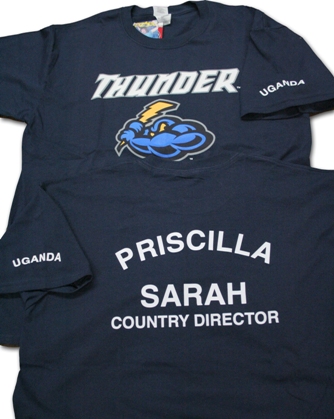 The Trenton Thunder supplied the hats and shirts that the team wore in Poland. The Trenton team was rooting for them to win so that they could come to the U.S. and visit the Trenton stadium and be introduced to the media and the crowd at a Trenton Thunder ball game. Uganda would have been the first African Little League team to make it to the Little League World Series in its almost 80 year history.

---